Get the Best Carpet Cleaning Services 
Tilbury Ontario
It's time to protect the investment that you've made in your carpet and furniture with our High Quality Carpet Cleaning services in Tilbury Ontario. Your family and your home will enjoy a healthier environment when your carpets and upholstery are cleaned with environment and pet friendly foam! You will see and smell the difference in your carpets as soon as you walk through the door.
Family and Pet Safe ECO Foam Carpet Cleaning
Restore and maintain the original beauty of your carpet with Professional Carpet Cleaning Service by Foam Frenzy in Tilbury Ontario. Your carpets will be cleaned with environmentally-friendly low moisture foam for fast drying with no residue. Our Foam & Hot water extraction carpet cleaning system is the method most recommended by North America's leading carpet manufacturers and we are the cleaner of choice for Tepperman's for Upholstery cleaning. That's a few good reasons to choose Foam Frenzy in Tilbury to clean your carpets or furniture.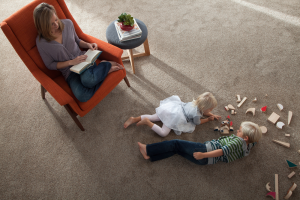 Renee at Foam Frenzy uses only non-allergenic WoolSafe™ approved green cleaning products unlike many carpet cleaning methods that can leave potentially harmful chemical residue in your carpets. Our carpet cleaning systems run clean and dry fast, free of debris and fresh as the day you got them.
Safety of your pets and family is not the only advantage that our chemical free formula. Our carpet cleaning system is first and fore-most environmentally friendly and 100% eco-conscious. As a proud Ontario company we take the protection of our beautiful province very seriously.
Top 10 Reasons why you will Love Our Carpet Cleaning Services in Tilbury
Eco Friendly Cleaning. Recommended for any home with people that have allergies/asthma and with children & beloved pets.  
Carpets stay cleaner, longer. – We don't use oily soaps and harsh detergents so there are absolutely NO soapy, sticky residues left behind.  
Carpets are dry in about 1 hour. – Our Low Moisture Foam uses up to 90% less moisture than other methods and drys quickly.  
Exact appointment times. – No waiting around all day wondering when Renee will arrive to clean your carpets, upholstery cleaning / furniture cleaning and area rugs, we'll give you an exact arrival time.  
Honest pricing- No gimmicks. – No Sales Gimmicks, No hidden costs. We charge by your exact square footage to be cleaned… and we provide you with the exact price BEFORE WE BEGIN, no surprises   
We don't cut corners…We clean them. – We're so dedicated to providing you with the absolutely best cleaning, we guarantee it! If you don't like your results we will clean it again, no charge, no questions asked.  
Amazing Customer Service. – Renee is polite, highly trained and will give you the most thorough cleaning ever your carpets have ever seen.   
We Answer The Phone LIVE. – No waiting all day for someone to call you back. Call or contact us NOW at (519) 919-3313.  
One Call Service. – Carpets, Upholstery, Oriental Rugs, Protectants, Disinfectants, Antique fabrics, Pet Odours, Leather & Vinyl, RV's and Auto
Interiors, Advanced Stain Removal …and much more!  
A customer for life! – Once you become our client we'll work very hard to impress you each and every time so you'll keep coming back again and again and even tell your friends about us. Just like these folks…
Professional Carpet Cleaning Service Tilbury
Renee has been servicing the Tilbury area for Carpet Cleaning for 7 years or longer, bring expertise into your home to assure you get the job done right. Foam Frenzy Carpet Cleaning in Tilbury are green cleaning certified, are fully trained in the equipment they use and are always in ongoing education programs for the carpet cleaning industry. Call Us To Book Your Appointment Today (519) 919-3313.