Posted by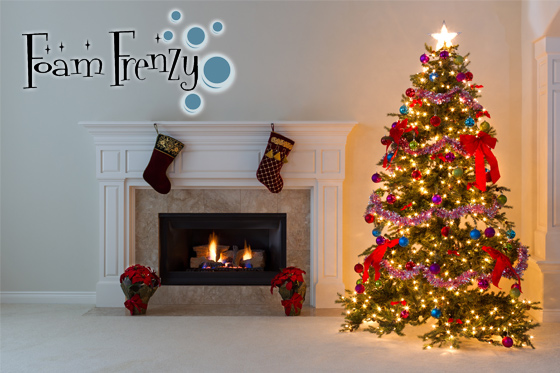 Get Your Carpets Clean For Christmas,
Prepare For Holiday Entertaining Now!
Residents of Belle River, Ontario and surrounding areas appreciate specialist carpet cleaning provided by Foam Frenzy. We use an innovative and reliable eco-friendly foam to safely extract dust, dirt, embedded stains, grease, and lingering odors from your carpeting and upholstery fabrics. Call us soon to help you enhance your living spaces before the arrival of holiday guests!
This warm and happy season of the year promises fun and enjoyment for residents of this part of Southwestern Ontario, as the snow is here! As you envision your friends and loved ones assembling for festive gatherings, you'll want your premises to radiate cleanliness, beauty and hospitality. Obtaining specialist carpet cleaning for the living room area and other fabrics in your home will help you prepare for entertaining more quickly and easily. You can feel confident delegating the carpet cleaning and upholstery work to us! Don't replace your furniture renew it, with on of our upholstery cleaning packages!
We Offer Specialist Carpet Cleaning Services
Foam Frenzy is green seal approved, which means the cleaning is safe for little ones and pets and has obtained complete training in the carpet cleaning industry. Approved by Home Advisor and backed by loving reviews, Renée earned credentials as a Certified Cleaning Technician specializing in removing resistant carpet stains. We'll carefully and gently sanitize floor coverings and upholstered surfaces without causing damage to delicate fibers. We pre-spray and deodorize fabrics before applying low moisture foam cleaning and, in most cases, hand scrubbing.
We rely upon fans to help ensure complete drying. We strive to obtain 100% customer satisfaction. You'll notice the refreshing results of our work with delight! Our carpet cleaning company chose to use innovative foam cleaning technology because the products we apply remove deeply embedded grime effectively without risking harm to fabric fibers and without leaving noxious residues. We place paramount importance upon providing excellent customer service.
Some Helpful Holiday Cleaning Tips
A few simple holiday cleaning tips help make clean up tasks easier during this season of the year:
Many households display attractive holiday décor which fill the vicinity with fresh Evergreen scents. To optimize the effectiveness of greenery used for decorating purposes, you'll want to completely sanitize fabrics in the home first. Carpet cleaning services prove most effective in eliminating unwanted odors when combined with skilled upholstery cleaning.
In this region of Ontario, it makes sense to place welcome mats outside exterior doors. This practice helps make floor cleaning much easier! Deep catch rubber mats will help collect melted snow and keep dirt contained at the front door and not onto your carpets.
If you do decorate with natural plant materials (especially boughs or cut Christmas trees), consider placing some type of drop cloth immediately underneath these items to help collect the dry Evergreen needles. Employ light regular vacuuming to catch fallen plant material before foot traffic can grind the needles deeply into carpet or rug fibers.
If you decorate with Poinsettias or wreaths containing berries, make sure you keep these displays safely away from young children and pets in order to prevent them from consuming poisonous plant materials. (The team at Foam Friendly uses Green Seal and Environmental Choice products for carpet cleaning. We make sure these fast drying products won't leave any residues that might harm your family members or pets.)
Consider seeking professional cleaning assistance before the holiday season begins and again shortly after it draws to a close. In most cases, you'll want to spot clean a spill immediately, and then obtain timely regular specialist carpet cleaning assistance shortly afterwards. Let us know about any splotches or stains you'd particularly like removed during our visit. We think you'll notice the results of our cleaning sessions with pleasure!
Try ECO-Friendly Foam Cleaning Soon
If you've never asked Foam Frenzy to perform carpet and upholstery cleaning services for you previously, you really owe it to yourself to schedule a cleaning session for your home with us as soon as possible. We know you'll appreciate the fresh, revitalizing results when you examine your floor coverings and upholstery fabrics after one of our visits. Many people find it difficult to believe simple bubbles and foam can produce such dramatic changes in the condition of home environment until they see the results for themselves.
Enjoy the vivid colors of your home's fabrics once again and savor the clean, appealing scent of sanitized chair and sofa cushions. Unlike some other surfaces in the home, carpeting and fabrics conceal dust and other contaminants from view. That's one reason odors from pets, cigarettes and beverage spills sometimes linger undetected in these locations for long periods of time, filling a home with unpleasant yet hard to locate smells. By asking our cleaning company to thoroughly sanitize these surfaces for you with our safe commercial-grade foam cleaners, you'll ensure you restore dirty fabrics to a sparkling clean, appealing condition. Our efforts remove unwanted lingering odors and allow the beauty of fine fabrics and plush carpet fibers to shine.
Our Service Areas
We offer specialist carpet cleaning and upholstery cleaning in this part of Ontario. Some of the communities within our service area include:
If you have any questions about whether your residence lies within our service area, simply give Renee a call at (519) 919-3313!
Enjoy Beautiful Carpets This Christmas!
To ensure your carpets and upholstery look lovely and smell fresh during this happy time of year, call Renée now at 519-919-3313 or book your appointment online. Ask us to help you sanitize floor coverings, drapes and cushioned furniture so you can entertain with confidence during the holiday season and New Year. We'll help you maintain the beauty of these fabrics. Get an experienced specialist carpet cleaning just before Christmas, we look forward to assisting you!