Posted by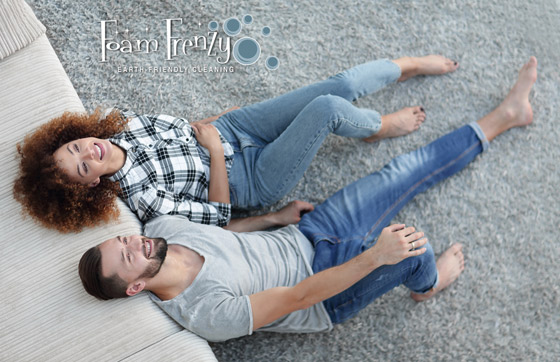 Professional Carpet Cleaning Services
Treat yourself to a deeper level of clean without lifting a finger with Foam Frenzy professional carpet cleaning services! Whether you are dealing with stubborn stains, looking to make a good impression on holiday guests, or just hoping to get more freshness out of your carpeted and upholstered furniture, you can count on Renee to get the job done. We pride ourselves on our attention to detail and our efforts to provide affordable and thorough professional carpet cleaning services that would also win the approval of Mother Nature.
Earth-Friendly Carpet Cleaning Solutions
We use Earth-friendly ECO foam for all of our professional carpet cleaning services. It's a cleaning solution that's perfectly safe for kids, pets, and of course, carpets! It's also a low-moisture type of carpeting cleaning that makes it easier to vacuum the dirty foam without leaving behind drenched carpets with extra long drying times. This approach to cleaning is an example of our commitment to offering much-appreciated peace of mind and reliable, minimally disruptive results for our customers in Windsor and the Essex County area. We want your carpets professionally cleaned, then get you back to your normal routine.
Foam Frenzy Professional Carpet Cleaning Company
All four of our professional carpet cleaning packages we offer start with a field assessment. This is when our carpet cleaning team will evaluate your carpets to determine the most appropriate approach to your carpet cleaning needs. We also do pre-spraying and deodorization to help remove dirt and unpleasant odors, including pet-related smells. After many years in the industry we have come across what really works and what is urban myth when it comes to cleaning.
Our attention to detail includes placing protective plastic under furniture legs to prevent staining on top of newly cleaned carpets and using fans to speed up drying times. And we'll do a final inspection with you after all work is done to ensure nothing is overlooked.
We also offer carpet cleaning options that include hand scrubbing, vacuuming, the removal of unattractive loose fibers, and grooming and brushing. Don't forget to ask about our Scotch Guard treatments for your furniture to minimize issues with spills and stains between cleanings.
The Importance of Professional Carpeting Cleaning Services
About 80 percent of carpet stains are "dry" from dirt and debris that naturally comes into your home or business. The rest are stains primarily consisting of spills, starches, oil, and other grease. What a professional carpeting cleaning does is get the dirt that's deeper in carpet fibers and not easily removable with normal vacuuming. Special processes are also used to tackle more challenging stains in a way that's safe for carpets and environmentally friendly for any children or pets.
One of the most compelling reasons to schedule professional cleaning services from Foam Frenzy is the potential to extend the life of your carpets. Generally, signs of wear start to become increasingly evident in high traffic areas after about ten years from when carpeting was installed, sometimes even sooner than this. This deep clean will give your home a real boost and improve your general mood. Often times customers are truly surprised by the difference saying they had no idea how dirty their carpets really were!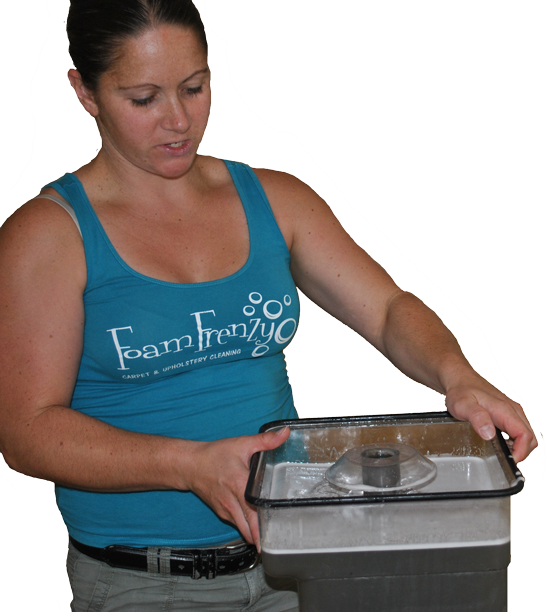 You'll benefit from a deeper cleaning that also removes a lot of allergens and other contaminants that can have an impact on indoor air quality. Regular cleanings can also boost your home's value, make a good impression on guests or customers if you have a home based business, and create a cleaner environment for family members, employees, and pets.
Foam Frenzy's budget-pleasing professional carpet cleaning services:
Reviving carpets that have slowly lost their natural brightness and color over time due to accumulated dirt and debris
Tackling tough stains in high traffic areas
Providing a thorough cleaning before special events or holiday gatherings
Cleaning carpets before you move out or when you're just moving into a previously owned home or apartment
Upholstery Cleaning the Foam Frenzy Way
Any upholstered surface can slowly accumulate dirt or become unexpectedly stained from sticky hands or accidental spills. With upholstery cleaning from Foam Frenzy, your upholstered surfaces can be instantly refreshed and meticulously cleaned beyond what you can do yourself or with limited time.
We use cleaning methods that safely remove deep down dirt along with dust and bacteria, which means you'll also enjoy healthier indoor spaces.
Furniture can benefit from a Upholstery Cleaning in the following ways:
Cushions and other upholstered surfaces that are less susceptible to wear
Fewer issues with unsightly discrepancies in brightness or color richness since we'll carefully clean all areas
Upholstered surfaces that often look very close to what they looked like when new
The furniture that's found throughout your home or business is often something you don't pay much attention to — until you start to notice that everything's not as eye-catching as it was once, when you first purchased it. Take advantage of the furniture cleaning services available from Foam Frenzy to keep your upholstered and leather furniture from becoming a visual distraction. Our approach to cleaning furniture includes:
Using the right cleaning methods appropriate for the material
Conditioning and protecting your furniture's surfaces
Applying cleaning solutions by hand when necessary
Replenishing your furniture's natural beauty & freshness
Taking appropriate steps to remove body oils that accumulate from people an animals and dust particles and airborne contaminants that sometimes get on furniture from cooking and other indoor activities
Professional Carpet Cleaning Tips from Foam Frenzy!
We're always prepared to provide Professional carpet cleaning services for Essex County homeowners and businesses that need to keep everything looking great. We're also just as pleased to offer some useful carpet cleaning tips to help you out between professional cleanings.
Blot stains from the outside of the stain inward to soak it up. Never rub!
Use an equal parts vinegar-water solution if club soda doesn't work for beer and wine stains.
Loosen dried blood with mild soap and water and apply hydrogen peroxide directly to the stain.
Use dish detergent for grease stains.
Cover a cleaned up stain with a cloth and a heavy object overnight to ensure everything is absorbed so the stain doesn't reappear because everything wasn't removed with the initial cleaning.
Don't use irons or hairdryers on stains, unless you want stains to be permanently sealed.
Vacuum at least twice a week to minimize dirt accumulation on your carpeted areas.
Foam Frenzy is a trusted source for the residential and commercial carpet cleaning services Essex County customers need to enjoy a cleaner, healthier indoor environment. Thanks to convenient hours that extend to Saturdays, you'll have no trouble fitting Foam Frenzy into your busy schedule. No matter how basic or demanding your carpet, upholstery, or furniture cleaning needs are, we're committed to meeting and exceeding expectations.
Call Renee today at (519) 919-3313 to get started with a free professional carpet cleaning services quote.