Posted by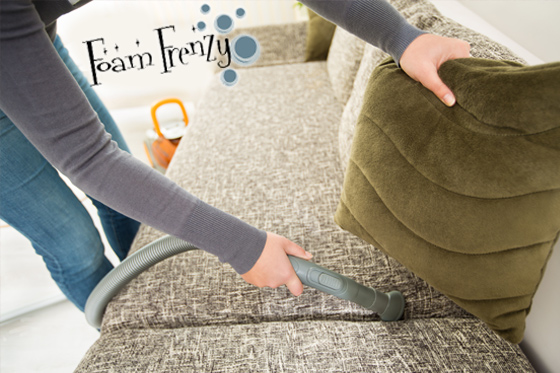 Upholstery cleaning is not something we think about every day, but it can really improve the air quality of your home! Regularly cleaning your home through vacuuming and other standard efforts is a great way to remove superficial dust, dirt and other items from your upholstery. You understandably want your home to look and smell clean, but you also need the air to be clean and fresh. While your regular cleaning chores can remove some of the dirt, bacteria and other particles from your furniture, some material is left behind. These particles can build up in your furniture over time, and they can result in a dirtier, smellier and altogether unhealthier home. Furthermore, dirty upholstery can directly reduce indoor air quality. Indoor air quality is something that is relatively easy to overlook until respiratory symptoms become problematic. However, this is a component of your indoor environment that should receive regular attention from you.
When your home's indoor air quality is poor, dust and other debris may settle on your furniture and other surfaces very quickly after you clean them. This gives your home a dirty look even if you have recently cleaned. Poor indoor air quality can also result in a smelly home and an increased risk of respiratory conditions. When you are looking for exceptional home cleaning tips, an important tip is to focus on improving indoor air quality through periodic deep cleaning efforts. Your upholstered furnishings are a leading cause of poor indoor air quality. Regular deep upholstery cleaning is necessary if you want to keep your home environment as clean and healthy as possible. Regular vacuuming is simply not enough.
Why Upholstery Can Be Problematic…
Before you schedule upholstery cleaning services for your home, it is important to understand why these surfaces require special attention. When you use your chairs, sofas or other upholstered furnishings, your body brings bacteria, dander, dust and allergens to the fabric. Because fabric is porous by nature, these elements can become embedded in your furniture. Excellent home cleaning tips will tell you that regularly vacuuming your upholstery is a great way to remove superficial debris on your furniture. However, more significant cleaning steps are also needed for the best results. After all, debris can become so embedded in your furniture that a vacuum cleaner is ineffective. Deep cleaning efforts can remove debris and particles that are too deep for your vacuum's suction power to reach.
Why Special Upholstery Cleaning Services Are Needed
Furniture in your living room and in many other areas of the home may be used regularly. Just as you deposit some debris on these surfaces each time you sit down, the pressure of your body on the fabric can also release allergens and dirt into the air. Your carpet is another type of fibrous material in your home that you vacuum regularly. You may be aware that carpeting requires deep cleaning once or twice per year to keep it well-maintained and as clean as possible. This holds true for upholstery as well. Without deep cleaning your upholstery, the material will become increasingly dirty over time.
You may think that you could clean your upholstery as well as a professional could, but this is not the case. Remember that excess moisture that becomes trapped in your cushions can easily result in mold growth. Mold growth in your upholstery can ruin your furniture, decrease indoor air quality, result in an unbearable stench and even cause serious health issues. Furthermore, do-it-yourself efforts typically are not as effective overall at removing particles from deep inside your furnishings. Your furniture needs to be deep cleaned in a way that protects your furniture and that delivers quality results. Professionals use proven techniques to protect your belongings from water-related damage while also removing unhealthy debris and particles from the fabric. Quality upholstery cleaning efforts can also remove stains and even breathe new life back into furniture that previously may have looked worn out.
Why We Are the Company to Call for Furniture Cleanings
While there are many carpet and upholstery cleaners serving the local area, a closer look will reveal that we are the company to contact for assistance. Our FoamFrenzy team is friendly and knowledgeable. We respect your home and your family, and you can always expect us to be courteous and professional. More than that, we know how to deliver amazing results that will dramatically improve indoor air quality and help your furniture to look better in the process. Our cleaning methods are environmentally friendly, and they are safe for wool, microfiber, cotton and many other fibrous upholstery fabrics. You can check out our upholstery cleaning packages and pricing from this link.
At FoamFrenzy, we offer multiple upholstery services to meet the needs of all of our customers. These effective services include:
An assessment of your upholstery's cleaning needs
Pre-spraying to ensure effective dirt removal
Deodorization to remove unpleasant odors
Low-moisture foam cleansing
Hand scrubbing to loosen and remove more particles
Fans to promote rapid drying
A post-cleaning inspection
Some of our service packages include additional services to further address the specific needs of your furniture.
As you can see, we take extensive steps to ensure that your upholstered furniture is thoroughly cleaned to your satisfaction. We also take every measure possible to prevent damage and to ensure that the upholstery dries as fast as possible. Through our effective services, you can expect:
Stains and odors to be removed from the furniture
Colors and patterns to be protected
Improved indoor air quality
Multiple concentrated efforts to remove as much dirt and debris as possible
Safe cleaning measures for all fabric types
Eco-friendly cleaning processes
Book An Upholstry Cleaning With Foam Frenzy Today!
While you understandably take regular efforts to clean your home as thoroughly as possible, even the best cleaning efforts will not remove all of the stains, odors and ground-in debris from your upholstery. In order to keep your home as clean as possible, professional upholstery cleaning is necessary from time to time. Call Renee today at (519) 919-3313 to learn more about our services and to schedule your appointment with FoamFrenzy.