Posted by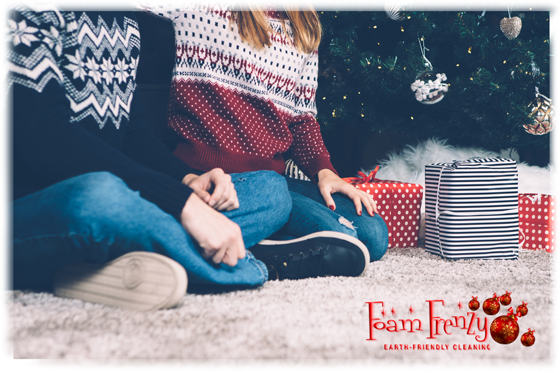 Hello Clients and Friends!
So, I'm skipping the November newsletter and moving onto December, due to a busy month! So, thanks for that!
Thank you for another great year. I only have you to thank! I look forward to seeing you all next year.
Also, thanks to those who referred the last two months: Vicky Smith, Nadia Ingratta, Michelle Prince, Rachelle Friis,
John Brown and Heather Loree!
The winner for the October Review Draw is Deborah Bonfiglio! The winner for November is Sassy Dawe!
Thank you to those who posted reviews!
Remember to take some time off over the holidays and spend some time with those you love.
Merry Christmas!
Renée
Carpet and Furniture Soil- Prevention for the Holidays
Leave a basket by the door full of slippers, so your guests are welcome to remove their shoes and replace them with slippers. Also, leave a sign nearby saying "Please take off your shoes and wear slippers instead".
Place extra mats at doorways for the extra traffic.
Vacuum the entrances regularly, so the dirt doesn't get tracked into the rest of the house.
Place covers on your furniture if you're expecting young children to be eating or drinking around them. Also, if you're expecting pets that may go on the furniture.
If there is a new pet coming into the house, don't leave them unattended, in case they feel the need to mark your house or are not fully trained.
Provide trays or extra tables for people to put their drinks or plates on.
Roll up your nice area rugs, so you don't have to worry about the extra foot traffic or spills.
Keep a bottle of Proxi on hand to easily clean up any food, drink or pet messes that may occur.
Referrals & Rewards
Refer a friend and receive a $15 Tim's or gas card
when they have a cleaning done.  Make sure they
mention your name!
All Clients get 10% off their cleanings or 15% off
when they clean every 6 months!
Write a review and enter to win a $15 Tim's or Pioneer
gas card!  Facebook, Google or HomeAdvisor.com
Scroll to the bottom of the homepage and find the
new buttons!
Don't forget I offer a 100% Satisfaction Guarantee
or I will re-clean it for Free!
519-919-3313
renee@foamfrenzy.com