Posted by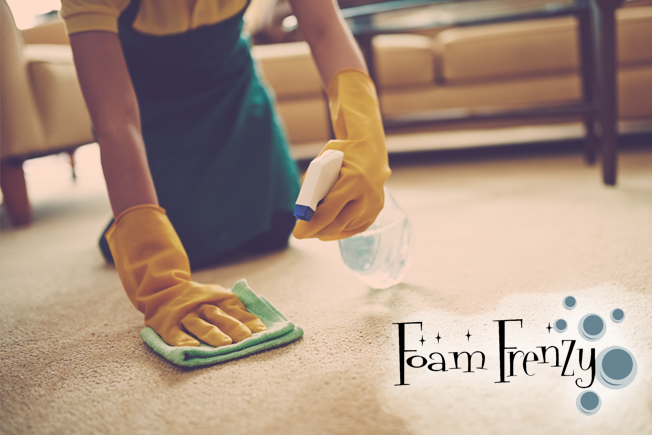 Professional Carpet Cleaning Ontario Residents Can Stand By
Are you currently in need of professional carpet cleaning Ontario homeowners can believe in? If you are, that's great. Foam Frenzy is a respected Belle River, Ontario-based company that offers the finest carpet cleaning services in the area. We have built up our company by word of mouth and trusted Google Reviews. We can take the cleanliness of your residential property to a whole new level. We also clean commercial spaces if your offices are in need of a deep carpet cleaning.
Dirty carpets are a source of frustration and stress for many people, it can actually effect your mood. It can be hard to maintain carpets that always looks fresh and clean. It can be difficult to get rid of persistent and stubborn stains, spills and odors, too. The great news is that Renee of Foam Frenzy is one of the finest and most experienced carpet cleaning technician on this side of Southern Ontario. She can successfully take on carpet cleaning projects of all types and get them to come out clean! There's truly no carpet cleaning mission that's too daunting or complex for our talented and courteous team.
An Eco-Friendly Approach to Carpet Cleaning in Southwestern Ontario
Foam Frenzy is a company that takes an eco-friendly approach to carpet cleaning service. We employ ECO foam that's 100 percent earth friendly. Our cleaning style is perfect for people who have a passion for the environment and keeping it safe, beautiful and happy for upcoming generations. The benefits of our ECO foam are worth mentioning, above already being pet and kid friendly, It offers many advantages and perks.
These include:
Reduced moisture levels.
Rapid drying.
Pure safety. It's safe for carpeting, children and pets alike.
No harsh chemicals on your carpet
No harmful cleaners into the environment
What Our Carpet Cleaning Services Entail
We cater to the carpet cleaning needs of home and business owners in the Southwestern Ontario region. If you need to keep the carpeting in your business fresh and flawless, you can trust Renee as proven by our testimonials. If you need to keep the carpeting in your home living room smooth and free of imperfections and stains, you can count on her there, too. We provide our customers with numerous exciting and convenient carpet cleaning packages and choices.
These packages cover all of the bases as well. We have basic, standard and thorough packages available. One of our standard packages includes vacuuming service. The other includes Scotchgard. We can talk to you about your specific carpet cleaning goals to help you figure out which package is the best fit for you.
Some examples of extra services that you may want to include on top of our regular packages are:
Couch, Love Seat, and Recliner/Arm Chair Cleaning
Leather Upholestery cleaning – add $10 to the Upholstery Cleaning Package.
Dining/Computer Chairs – range from $5-$20
Ottoman – range from $20-$50
Stairway Cleaning – $4 per step for Basic, $5 for Standard or $6 for Thorough Cleaning Packages
Disinfection: Carpet – add 10¢ per sq. ft. ; Furniture – add $15 per piece
Stain Removal – included in cleaning price
Pet Stain Removal – $20-40 per spot
Boat Interior cleaning – price based on on-site estimate
Auto Interior cleaning – price based on each vehicle and customer needs
RV Interior cleaning – price based on on-site estimate
Transport Truck Interior Cleaning – price based on each vehicle and customer needs
Mattress Cleaning – includes Microban Disinfection
These services can do so much for both your carpeting and home furniture in general. A professional cleaning can do away with persistent and unsightly dirt. Deodorizer use can do away with unpleasant odors of all kinds and refresh your space! Air circulation can make the drying process faster and more convenient. Brushing can encourage better and more efficient circulation.
The Advantages of Our Professional Carpet Cleaning
You're probably a busy person with a chaotic schedule, like most of us today

If you want fresh and pristine carpet but honestly don't have the time or experience necessary to handle carpet cleaning work on your own, Foam Frenzy can free you of the time burden. Renee is the most capable and seasoned cleaning professionals you can imagine, that why the big box stores use her to keep their warranties in tack for carpets and furniture.
They understand and make use of all of the most innovative and effective carpet cleaning techniques available these days. Renee uses carpet cleaning tools and equipment that are safe, modern and advanced. They use carpet cleaning formulas that are gentle and eco-friendly as well. If you want carpet cleaning work that can make you feel "pure comfort" and "ease of mind", then Foam Frenzy is the way to go! We have the experience necessary to provide you with carpet cleaning service that's top of the line. There's no carpet cleaning task that's too ambitious for our proficient and determined cleaning wizard.
A+ Upholstery Cleaning Services Too!
Foam Frenzy isn't a company that not only offers carpet cleaning. We also proudly and enthusiastically offer upholstery cleaning. If you're searching for the best furniture cleaning services in all of Southwestern Ontario, we can cater to you. If you're on the lookout for Southwestern Ontario furniture cleaning services that are immaculate, meticulous and all-encompassing, we can cater to you, too.
Dirty and dull furniture can be a big problem for homeowners. Living room sofas that look drab can make you feel embarrassed and ashamed any time guests are around. Sofas that are full of noticeable pet stains and smells can make you feel like you want to hide away from the rest of the world. You don't have to immediately throw out furniture that isn't perfectly clean, however.
That's because our in-depth cleaning work can turn everything around for you and your furnishings. Don't replace, RENEW! If you want your couch to look fresh, soft and inviting again, you can count on our cleaning expertise and skills. Renee is well-versed in the most gentle furniture cleaning practices and methods. We treat our customers' furniture with full respect. We'll give your furnishings all of the care and attention they deserve.
We Guarantee Full Satisfaction Here
Foam Frenzy is a carpet cleaning company that has ample confidence. That's the reason we guarantee all of our cleaning services. If you want to work with professionals who can give you a 100% percent satisfaction guarantee, get in touch with Foam Frenzy without delay.
Our number one aim is to make our customers happy & to see them smile.
If you want your carpet or furniture to look like a vision of cleanliness and beauty, we'll do whatever it takes to make it happen for you. We promise you that. Foam Frenzy isn't a cleaning business that's ever okay with mediocrity. We reach for the stars for our customers day in and day out. If you're searching for the greatest residential carpet and upholstery cleaning services in Southwestern Ontario, give us a call as soon as possible.
Call Renee at 519-919-3313 today to reserve an appointment.