Posted by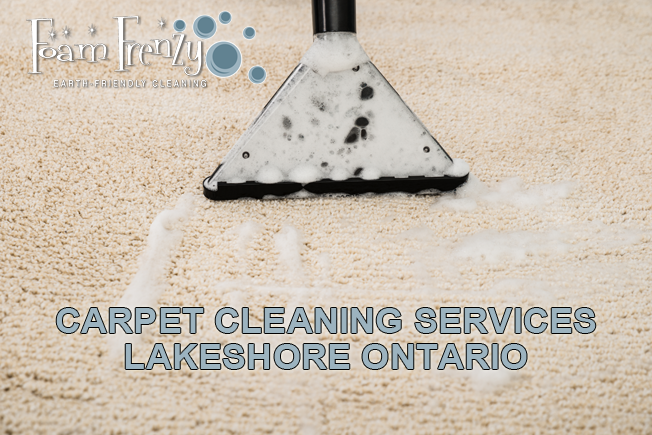 Professional Carpet Cleaning Services Lakeshore:
Your home is your castle, trust Foam Frenzy Professional Carpet Cleaning Lakeshore On. Keeping your home clean and safe is an important part of your daily life. Carpets and the fabrics of your should not be over looked when it comes to the safety, wellness, and overall happiness of your family.
Dirty carpets and upholstery not only look bad, but it is a real health concern. According to the EPA, unclean carpets and furniture can house allergy causing dust mites, dangerous toxins, and outside dirt from pets, children. Daily foot traffic will stir up these pollutants, adding them to the air your family breathes. A quality upholstery and carpet cleaning service can keep your family healthy, all while improving the look of your home. Nothing else freshens up a room like a high-quality carpet and furniture fabric cleaning.
If you are looking for Carpet Cleaning Lakeshore, here at Foam Frenzy, we use only earth friendly foam to clean the soft surfaces in your home. Our female owned and operated carpet cleaning service is proud to say there is no steam cleaning involved. Our foam contains only 10% water so you won't be stuck, left waiting for wet carpets or furniture to dry.
Our eco-friendly, fast drying foam cleaning system will freshen your home while being good to the environment. Because we use very little water and no steam, just foam, you don't have to put your busy life on hold. We are friendly, honest, happy and willing to SERVE our customers! We want to be your number one place for Carpet and Furniture Cleaning Lakeshore.


Call Renee today at 519-919-3313!
Why is Foam Frenzy Different?
We proudly use an earth friendly ECO foam cleaning system to clean your upholstery and carpets. Our Eco foam is safe for kids, pets, and carpets!
Our team uses top of the line equipment to ensure you will be happy with the look and feel of the soft surfaces in your home.
Our foam mixture uses only 10% water so your carpets and furniture will dry quickly. You won't have to wait for dry floors.
How Often Should my Carpet and Upholstery be Cleaned?
Experts recommend a twice weekly vacuuming schedule to keep your carpet clean and reduce allergens. Your needs may vary, depending on children, pets and foot traffic.
Dirty carpets and upholstery often contain dead skin cells, dust mites, pollen grains, bacteria and even volatile organic chemicals. This is why it is so important to get your carpet professionally cleaned by a trusted cleaning service.
To fully extend the life of your carpet and upholstery, these surfaces should be professionally cleaned at least 3 to 4 times a year.
Why Choose Foam Frenzy?
We are proud to be certified carpet and upholstery cleaners as well as Certified Stain Resist Carpet Cleaning technicians.
Our fast drying, earth friendly Eco foam upholstery and carpet cleaning services will leave your home smelling clean and fresh, not smelling of dangerous chemicals.
Excellence in customer satisfaction is what we work hard for. We strive to please our customers.
We stand behind our work. If you are unsatisfied for any reason, we will come back and do the work over again, free of charge!
Whether you are looking for Carpet Cleaning Lakeshore or Furniture Cleaning Lakeshore, Foam Frenzy cleans a variety of surfaces: carpets, furniture upholstery, rugs, and much more.
We offer basic, standard and thorough cleaning services so we are sure to have the package best suited to the needs of you and your family.
Call the Carpet Cleaning Experts in Lakeshore On.
We know you work hard to make your home a safe and comfortable place for your family. Your home should be a refuge from the busy, often dirty, outside world. If your carpets are dirty, it could be dangerous to your home and family. Allergy causing dust mites, toxic particles, pet dander, and outside dirt from foot traffic all cause bacteria in your home space.
Upholstery can house the same sort of stains and bacteria build up. Don't take chances when it comes to keeping your home truly clean and safe. Let us show you how amazing your home can look and feel great knowing we use environmentally friendly ECO foam cleaning products. Don't forget that the chemicals used by traditional carpet cleaning services stay behind in your carpet for your family to breathe and play on. YUCK!


Foam Frenzy's cleaning system is not only good for the environment, it is safe for you and your loved ones (Pets Too!). Here at Foam Frenzy, we will work hard to make you happy! Renee is dedicated to quality work and customer service. We are proud of our work and offer a satisfaction guarantee. Let us show you our amazing work!
We offer a wide variety of carpet cleaning packages to meet all of your carpet and upholstery needs at the best value. Every one of Foam Frenzy carpet cleaning services come with a 100% satisfaction guarantee and 10% off your next cleaning service as a loyalty bonus. We also offer a referral incentive so be sure to tell your friends about us!
Call Renee today at 519-919-3313. Let Foam Frenzy show you how we offer more than just a clean carpet.