Posted by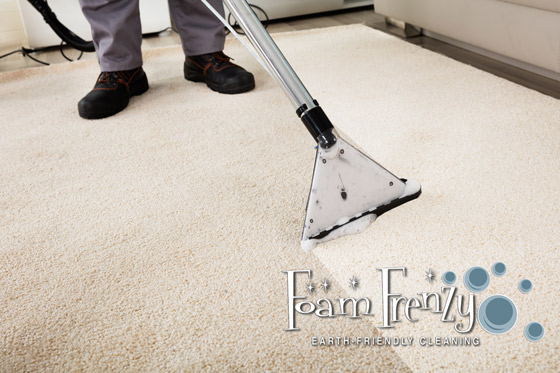 Trust Foam Frenzy for the Best
Carpet Cleaners in Essex Country Ontario

A carpet that is clean and smells fresh makes the your home space inviting as well as comfortable to live in. With most people moving towards a greener lifestyle, eco-friendly carpet cleaning services have become a must-have. It's not just to protect the environment, but to also ensure that your loved ones aren't exposed to toxic substances that can endanger their lives. Whether a space has a wall to wall carpet or a carpet covers a specific part of the floor, we can remove the grime and professionally clean any carpet without adding any toxic chemicals to your internal environment.
Why choose Foam Frenzy Carpet Cleaners?
Because, We are professional, friendly and have Great Reviews too!
Professional carpet cleaners do more than just remove dirt from the carpet, it's some one you can trust with your home and that is what you can expect from Renee at Foam Frenzy. We know that carpets and sofas are the best assets for our entertaining; therefore we will treat them with respect by doing the job right and keep them in the best condition. By the end of our carpet cleaning services, we always exceed our customers' expectations and keep them happy. In case of any problems, we will be glad to come back and redo the cleaning until our client is pleased with the results.
We use Eco-Friendly Cleaning Products Always…
We know too well that poor products will damage not only a carpet but also health and the environment. That is why use earth-friendly cleaning methods that dry faster, deodorizers and ultimately improve the customer's overall quality of living for their home.
We also Promise, There Will Be NO hidden or extra charges
Foam Frenzy prides itself in keeping its word. The carpet and upholstery cleaning package stated in our quotes is the same for all customers, if we quote a price that is what you can expect to pay. We don't expect our clients to pay any extra charges and there are no hidden fees for services rendered. If the size of job changes or if there are extra services, that's one thing but the service packages for both carpet and upholstery cleaning are designed according to customer's needs and budget and the price reflects that.
Benefits of Eco-Friendly Carpet Cleaners
In most homes cleaning the carpet especially when there are old stains involves the use of heavy duty chemicals. The build-up left by these toxic chemicals are dangerous to pets, the environment, and people, not to mention the carpet itself! Organic or eco-friendly carpet cleaner services make use of natural products which work to get rid of any dirt without posing any harm to a commercial area or those living in the household. You will know and have piece of mind, knowing our carpet cleaners only use kid and pet friendly cleaning solutions.
Here are more benefits of environmentally carpet cleaning products.
A home carpet cleaner using earth-friendly products will efficiently remove allergens, harmful microorganisms, and dirt. Our foam bubbles are also easy to use and require less water which means that your carpet and furniture will dry faster.
Help protect the environment
The toxic chemicals used to clean carpets eventually end up in waterways, with time, they accumulate and contaminate the surrounding habitat. Our cleaning process is biodegradable, non-toxic and poses no threat to the environment.
Earth-friendly cleaning methods preserve the color and texture of the carpet and upholstery. Since our techniques uses less water, it prevents mold growth and prolongs the lifespan of a carpet and furniture. The green seal products that we use won't cause fading. Therefore, women can be proud of their homes knowing that it's free of any harsh chemicals.
Prevents indoor air pollution
One main advantage of experienced carpet cleaners is that they have extensive knowledge of various cleaning methods. A reputable company will offer carpet cleaner services that use environmentally safe products. Our home carpet cleaners will use organic products to deep clean your items without polluting the indoor air.
Tips on how to maintain your carpet
Stubborn stains and odors caused by spilled foods and drinks can shorten the lifespan of a carpet and upholstery. Additionally, using harsh chemicals to clean, can cause the carpet fibers to wear out and become dull. Here are some tips to use to extend the longevity of a carpet.
Stains and spills on upholstery or carpet will have a successful removal when cleaned immediately. However, the cleaning method used will depend on the type of carpet and stain. Some items can be cleaned using just water while others require solvents. Old stains require more effort to clean using ordinary solvents.
Knowledge of how to clean the different types of dirt can help in prolonging the life of your items since each surface has a unique characteristic. Remember to avoid vigorously rubbing the spot as it can cause damage to the fabric. In most cases, press drying with a clean cloth or a wrung-out sponge can clean fresh stains.
Loose dirt particles and allergens tend to accumulate in high traffic zones. When not removed, the dirt can become embedded in hard to reach areas and enhance aging. Regular vacuuming can prevent loose dirt particles from food or dust from settling on upholstery and carpet. Vacuuming often and thorough cleaning at least twice a year can keep allergic elements at bay and make the space unlivable for microorganisms.
Hire professional carpet cleaners
There are different types of carpets, and upholstered furniture often doesn't have the same fabric. While a routine cleaning can work to keep dirt away, a certified home carpet cleaner can maintain the appearance and health of a home.
Make use of extra rugs and mats
Moisture, odor, and dust can build over time. Without placing a rug at the entrance, this dirt will enter into a home and create a conducive environment for microorganisms to breed and spread to other rooms. Putting a rug or mat at the entrance prevents disease-causing elements from moving past the door. Adding a rug underneath the furniture acts as a shield against heavy traffic.
Contact Foam Frenzy Carpet Cleaners
Foam Frenzy Carpet Cleaners can clean and restore a carpet as well as furniture back to its original state. Renee is a carpet and upholstery cleaner professional who will clean the carpet using techniques that are safe and save your time.
If you need high quality yet affordable carpet and upholstery cleaning, then Call Renee today at (519) 919-3313 to schedule a free on-site quote.