Posted by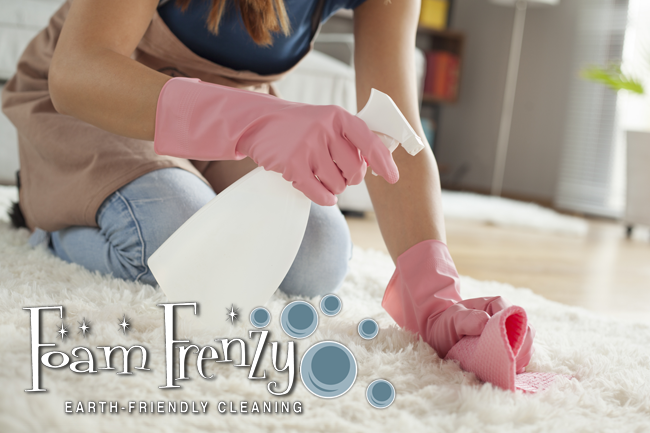 Essex County, Ontario's Finest Carpet Cleaning Service
Reliable Professional Cleaning Services in Essex County, Ontario
A clean living space can make you feel great. It can make you feel like you have seized the day and conquered the world, too. It isn't always easy to squeeze in the time to take care of Carpet Cleaning duties.

In-depth carpet cleaning can be a particularly time-consuming and a difficult task, always running against the clock. Foam Frenzy has a solution for that dilemma, though. That solution is to give us a phone call. We're a Belle River, Ontario-based full-service Carpet Cleaning Business that can manage all of your carpet cleaning requirements and beyond.

If you're fed up with living room carpet that looks dull and tired, Renee at Foam Frenzy can save your sanity. If you're tired of looking at carpet that's full of unsightly and lingering stains with bad smells, she can give you renewed hope and happiness.

Clean carpeting doesn't have to be an impossible dream for anyone looking for the Best Carpet Cleaning Services in Essex County. You can thank this local company for other things, too. We also specialize in Upholstery Cleaning Services that provide a deep clean, dependable and long lasting with optional ScotchGuard.




Other Available Cleaning Services
Foam Frenzy has a reputation for Superb Carpet Cleaning in Essex County Ontario. We also have a reputation for excellent furniture cleaning services. If you need professional furniture cleaning services in Essex County, there's simply no other company in the area that can accommodate you like we can. In fact, most of the Big Box Furniture stores in Windsor, trust us to uphold Warranties and Scotchguarding issues with their clients.

Our upholstery cleaning work is simply, budget-friendly and efficient. You no longer have to deal with a living room sofa that looks worn out and lifeless. You no longer have to accept an easy chair that looks dirty, soiled and neglected. You can give your entire home a refresh!

Our upholstery cleaning expertise can turn everything around for you. It can make you feel proud and a sense of well-being to welcome guests into your clean new home as well. We provide our customers with so many convenient choices in furniture cleaning packages and offer some great client referral rewards!



Some examples of these services are comprehensive evaluations, deodorization, pre-spraying, brushing, vacuuming, air circulation, low-moisture foam cleaning, loose fibre grooming and Scotchgard treatment. Loose fibre grooming is perfect for customers who want to forget all about loose fibres. Air circulation can make the drying process a lot quicker. Low-moisture foam cleaning can be great for doing away with all signs of persistent dirt and debris. It doesn't matter if you want to say farewell to dirt or if you want to keep annoying spots and spills at bay, ScotchGuard is a perfect solution for Both!
High-Quality Carpet Cleaning Packages Available
If you're on the lookout for Carpet Cleaning Services in Essex County that you can truly depend on, there's no business that can rival Foam Frenzy in the way of Customer Experience. We give our customers choices in basic, standard and thorough carpet cleaning packages. Our available carpet services include:
Deodorization.
Pre-spraying.
Hand scrubbing.
Vacuuming.
Brushing.
Post-cleaning assessments.
Edge scrubbing.
Our carpet cleaning expertise is ideal for people who want to live in homes that are the portrait of being truly clean inside and out day after day. We offer convenient air circulation assistance that can ensure the drying process doesn't eat up too much time. We offer hand scrubbing service that can keep persistent dirt out of sight and out of mind as well.

We cater to the carpet cleaning needs of all types of clients in Essex County. If you're a business owner who is searching for outstanding commercial cleaning work, we can provide excellent service for you. if you're a homeowner who is looking for remarkable residential cleaning work, we can provide it for you, too.
The Advantages of Our Professional Carpet Cleaning Services
When you need Carpet Cleaning Services Essex County residents can depend on, Foam Frenzy is the best choice around. The advantages of our carpet cleaning work are amazing.

They include:
Keeping irritating dust mite infestations out of your life.
Successfully doing away with pollutants that are lingering inside of your property.
Stopping the development of mold, a potentially dangerous substance.
Renee is trained and an experienced professional who has a substantial carpet cleaning background. An expert in all of the latest and greatest cleaning techniques out there. If you want carpet cleaning work that's the best of the best, our client care will never disappoint you. They can provide you with carpet cleaning work that's comprehensive and detail-oriented. They can help you save a lot of time, too. Proper carpet cleaning is a task that requires a lot of effort and focus. If you're a particularly busy individual, you may not have the time necessary to handle carpet cleaning well.
Customer Service Is Everything Here at Foam Frenzy
Foam Frenzy is the type of company that always goes above and beyond to please customers. That's why we're happy to provide our customers with cleaning services that are strong in quality yet competitively priced. Our customers never have to break the bank paying for our services. We're also a business that works hard to cater to all customers' specific needs and preferences. Our business model thrives on customer word of mouth and there is only one way to do that, Be Amazing at what you do.

If you're interested in carpet cleaning assistance that's kind to the environment and devoid of harsh and aggressive chemicals, you can turn to us. All of our Carpet Foam is safe for pets, animals and children and won't leave any wetness in the carpets that can lead to mold.




Or if interested in furniture cleaning services that are appropriate for households that have pets, you can turn to us, too. We do anything and everything we can to accommodate our customers' wishes perfectly and love pets too.

We want nothing more than to make our customers feel happy, safe and squeaky clean at home and on the job.
Reach Out to Foam Frenzy As Soon As Possible
If you want to forget about all of your dirty home or business carpet woes, then you can jump on a call today. Foam Frenzy is a highly regarded company with great client reviews, that can help you handle all of your cleaning requests.

You can trust Renee for incredible carpet cleaning tips and help. You can always include outstanding upholstery cleaning services, while we are there.

Call Foam Frenzy at (519) 919-3313 as soon as possible for more details about our five-star cleaning services and to set up an appointment. We are here to help YOU with your carpet needs.